NEW!
Hot Pancake Ice Cream Sandwich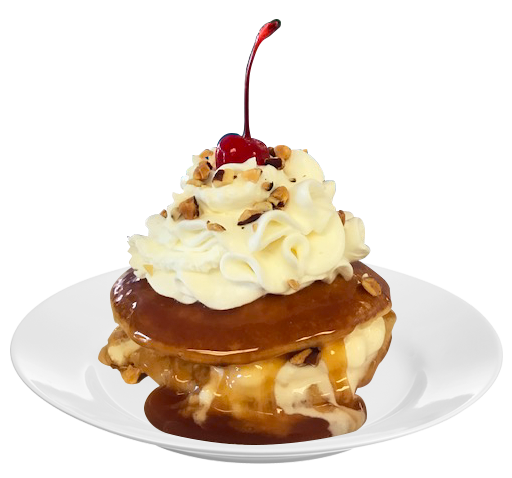 ---
Ice Cream Flavors

Cascade Glacier is the leading provider of food service‑exclusive ice cream in the west.
(all of the time)
Caramel Daze
Chocolate
Chocolate Chip
Coconut Pineapple
It's a Goody
Java Chip
---
Yogurt
Vanilla Non-Fat Hard Pack
---
Ice Cream Flavors
(some of the time)
Beachcomber
Huckleberry Heaven
---

Only high-quality ingredients go into our products. We've won dozens of "Best Of" awards over the years, including "Best in America" in the Grand National Lick Off and Grand Champion at the 2016 World Dairy Expo. We make creamy, rich, thick, absolutely delicious ice cream, custards, sorbets and soy creams.
Pumpkin
Chocolate Peanut Butter
White Pistachio
---
Non Dairy
Coconut Milk Vanilla Bean 
Mango Sorbet
Marionberry Sorbet
Soy Cherry Chocolate chip
Soy Mint Chip
---
Sugar Free
ATTENTION DIABETICS
---
Soft Serve
Pineapple Dole Whip (or twist of both)
Pineapple Dole Whip Float
Non-Fat Vanilla Ice Cream
Non-Fat Chocolate - Soft
Try one of three different flavors (made using Vanilla Ice cream and flavored syrup)
Red Raspberry
Cool Lemon
Caramel
Green Apple
Chocolate
Grape
Tropical Orange
Blue Hawaii Coconut
---
Toppings
Hot Fudge
Caramel
Strawberry
Pineapple
Marshmallow
Maple Syrup
Butterscotch
Hershey's Syrup (sugar free also)
Peanut Butter
Chocolate Hard Shell
Nutella
Oreo Cookies
Butterfingers
Bacon -one slice
Birthday Cake Confetti Cone Dip
Peanuts
Almonds
Coconut
Heath Bar
Mini M&M's
Mini Gummy Bears
Sour Gummy Worms
Reese's Pieces
Rainbow Sprinkles
Chocolate Sprinkles
Cookie Dough
Reese's Peanut Butter Cups
Fresh Banana
Fruity Pebbles
Whipped Cream
---
Cones
Fresh Baked Waffle Cone
Fresh Baked Waffle Bowl
Hand Dipped Chocolate Waffle Cone
Chocolate / Sprinkle Party Cone
M&M Cookie Cone
Pretzel Cone
Sugar Cookie Sprinkle Cone
Gluten Free Plain Cone
---
We accept Cash, Visa, MasterCard, Discover, & American Express.